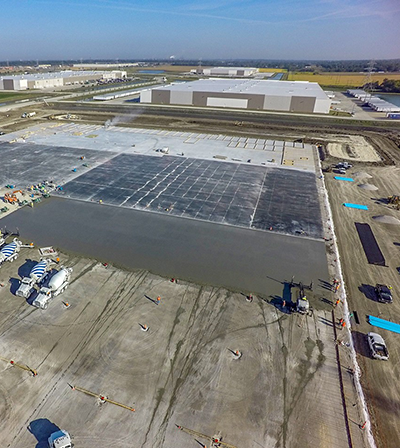 News Clipping from ConstructForStl.org
TriStar Properties has begun speculative development of a new 593,940-square-foot mega-cube distribution center at Gateway Commerce Center, a 2,300-acre logistics and bulk distribution park outside Edwardsville, Ill. Teaming with TriStar to fund the $26 million venture is PCCP, LLC a national real estate finance and investment management company.
The new building, Gateway East 594, is a tilt-up concrete cross-docked facility with 36' clear-height ceilings, 570 feet of depth and 66 dock doors plus two drive-in doors. Taking shape on a 54-acre site, the building is expandable to approximately 1,000,000 square feet.
The 594 building will be available for occupancy in January, 2018 according to Ed Lampitt, SIOR, CCIM and managing director of the St. Louis office of Cushman Wakefield, the exclusive leasing agent for Gateway.
"Gateway Commerce Center is widely acknowledged as one of the leading distribution parks in the Midwest. With 18 bulk buildings containing nearly 13 million square feet under roof, Gateway's development team is demonstrating its proactive approach in anticipating the needs of expansion-minded companies for efficient, expandable bulk space configurations," noted Lampitt.
TRiSTAR-PCCP Joint Venture
Gateway East 594 will be the fifth distribution facility jointly developed by TriStar and PCCP at Gateway.  The partners recently completed two previously launched buildings totaling 1,144,000 square feet, all of which has been leased. Another recent endeavor, a $36 million, 717,060-square-foot distribution center on a 56-acre site, is now occupied by retail giant Amazon.
In addition to Amazon, Gateway tenants include Dial Corp., GENCO ATC, GEODIS, The Hershey Company, Ozburn-Hessey Logistics, Proctor & Gamble, Save-A-Lot, Saddle Creek Logistics Services, D.B. Schenker Logistics, DB Schenker, Schneider National, Unilever, USF Logistics,Walgreens and Yazaki of North America.
Joining TriStar on the 594 project are Contegra Construction, general contractor; Gray Design Group, architect; and Stock & Associates Consulting Engineers, Inc.; civil engineer.
EDITOR'S NOTE: Founded in 1996, TriStar Properties is a nationally recognized real estate developer. Typically operating through affiliated joint ventures or partnerships, its activity log includes sale or development transactions involving more than 5,000 acres of commercial and residential land; apartment complexes; 1.5 million square feet of office space; 1.2 million square feet of retail space; and several million square feet of industrial/distribution space.
PCCP, LLC is a real estate finance and investment management company that focuses on commercial real estate debt and equity investments. With offices in New York, San Francisco and Los Angeles, it has approximately $6 billion in assets under management on behalf of institutional investors.
Since its inception in 1998, PCCP has successfully raised, invested and managed approximately $10 billion of institutional capital through private equity funds, separate accounts and joint ventures. Learn more about PCCP at www.pccpllc.com.