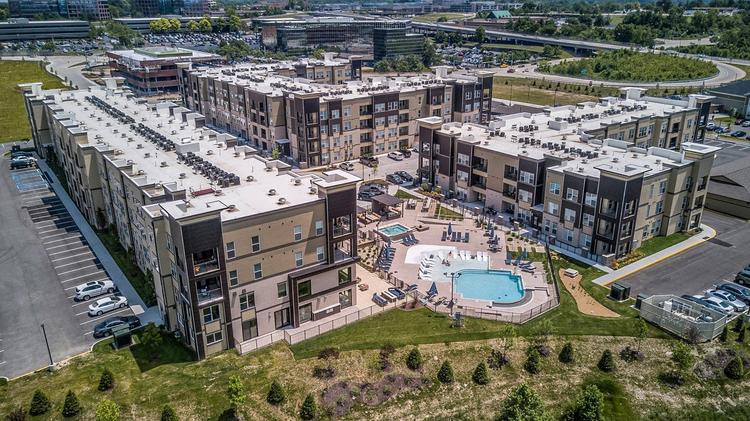 News clipping from The St. Louis Buisness Journal
A business entity associated with Strategic Properties of North America, a real estate portfolio and asset management company from New Jersey, has acquired the 254-unit Alinea at Town & Country apartment complex in Des Peres from Earth City-based TriStar Properties.
Terms of the deal were not disclosed. It's likely among the priciest multifamily sales of the year, with an estimated purchase price of between $55 million and $65 million.
In comparison, The Streets of St. Charles' 309-unit Residences was sold in April for $59.5 million, making it the most expensive sale year to date.
TriStar developed the Alinea complex, which sits near the intersection of Manchester Road and Interstate 270, for $50 million and finished construction in early 2017. Propper Construction provided construction management services on the project. Holland Construction Services also worked on the development.
The property has an appraised value of $3.5 million, a figure that is drastically low as the most recent assessment took place before the development was complete.
The deal closed Sept. 19. CBRE Executive Vice President Matt Bukhshtaber represented TriStar in the deal.
The buyer, according to St. Louis County real estate records, is Strategic Town & Country LLC, a business entity that lists Saul Kuperwasser, Strategic Properties of North America's CEO, as an organizer.
TriStar, led by President Mike Towerman, develops office, industrial and multifamily projects across the area. Through partnerships and joint ventures, it's participated in transactions involving more than 5,000 acres of commercial and residential land.
More than $1 billion in multifamily transactions have occurred over the last 24 months, according to Berkadia's Andrea Kendrick. At the same time, selling prices have climbed as more out-of-state buyers looked to St. Louis for safe investments.
Sales volume in the first half of 2017 totaled around $200 million.